Make the most of your shopping experience by creating
an account. You can:

Access your saved cars on any device.
Receive Price Alert emails when price changes,
new offers become available or a vehicle is sold.



Not registered? click here
Porsche Approved N-Spec Tires
Barnaba Autosport is your source for Porsche Approved N-spec tires that are specifically designed to meet the stringent performance and durability standards set by Porsche.  In collaboration with Michelin, Pirelli, Continental, Bridgestone and several other top tire brands, Porsche has developed a tire that will surpass all of your performance expectations because they were designed with you and your Porsche in mind.  Your Porsche was made to perform and Barnaba Autosport will help you keep it that way!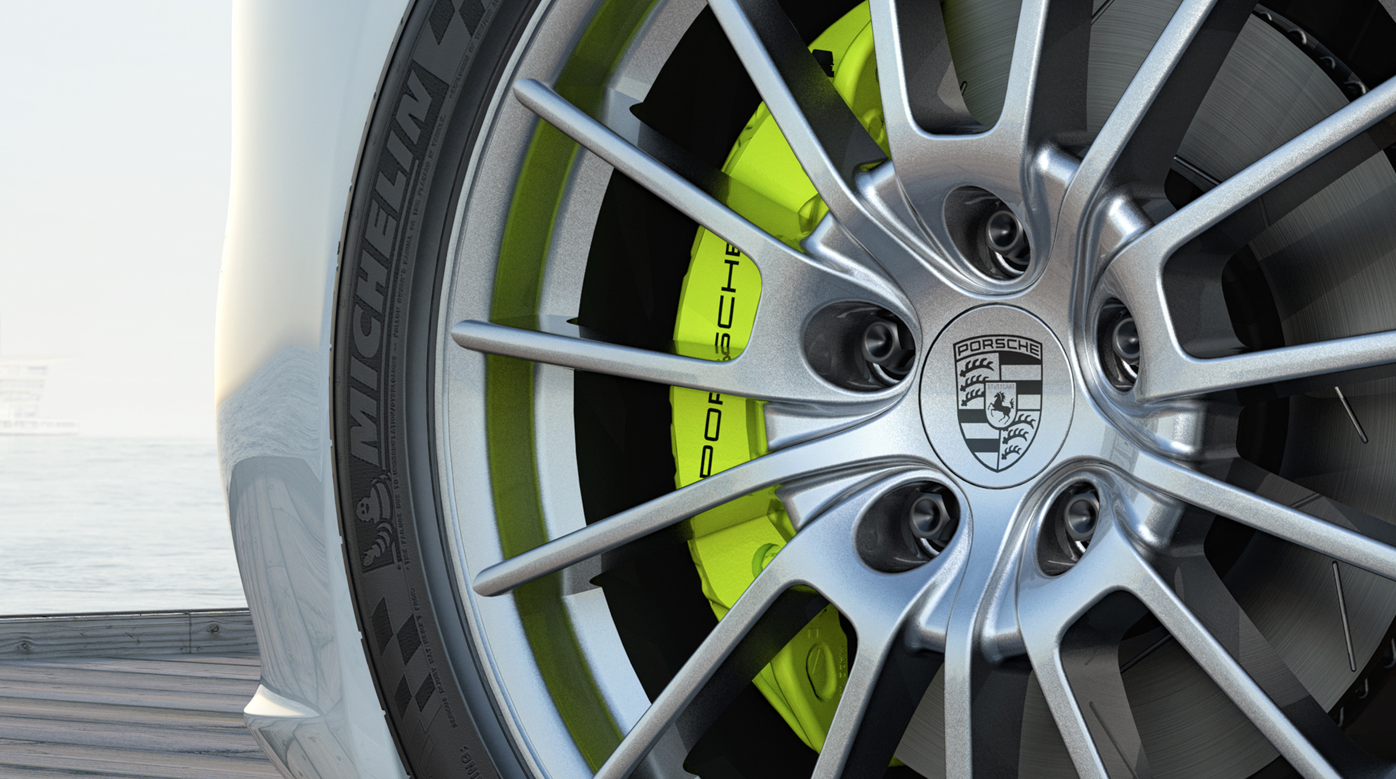 "WHAT DOES IT MEAN FOR A TIRE TO HAVE A PORSCHE N-SPEC APPROVAL?"
A Porsche N-spec approved tire is one that has passed a series of difficult and diverse tests designed by Porsche engineers to ensure maximum performance and safety under a wide range of driving conditions.  To qualify for this approval and "to be an Original Equipment tire provider on a Porsche vehicle or be approved by Porsche for the replacement market requires the joint production development efforts of the tire engineers working alongside the Porsche vehicle engineers."  In some instances specific tires will only be approved for specific Porsche applications or models.
Tires may be specified for a particular vehicle or range of vehicles and must successfully pass the tire company's laboratory tests to assure that they would be capable of adequately supporting the Porsche vehicle while allowing it to reach its top speed on the German Autobahn.  Additional laboratory, test track and race track tests are conducted to confirm that the prototype tires meet Porsche's noise, hydroplaning and handling requirements.  Prototype tires will also be evaluated to assess their high-speed durability, uniformity and serviceability.  Upon test completion, the tires will be released for production.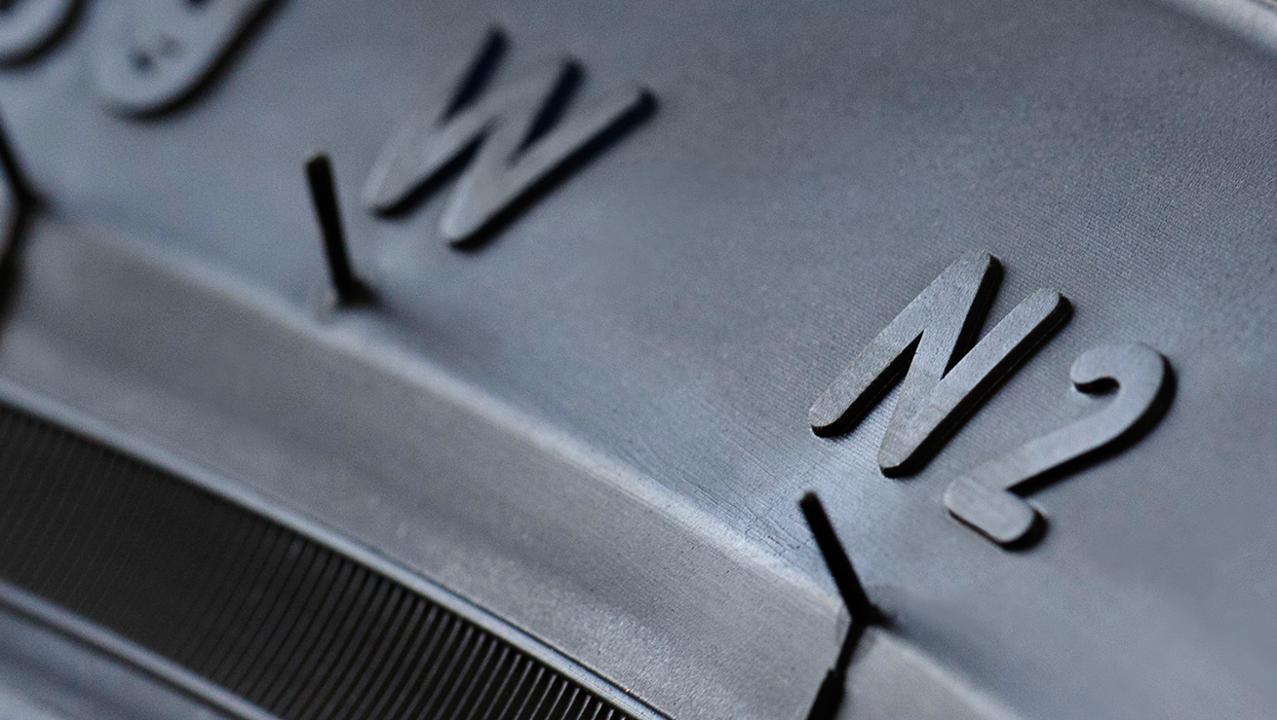 Production tires that have passed all of the tests and received the engineering department's release can be branded with an N-specification.  The N-specification brandings include:  N-0 (N-zero), N-1, N-2, N-3, N-4, N-5 or  N-6.  These markings on a tire's sidewall clearly identify them as approved by Porsche for their vehicles.  The N-0 marking is assigned to the first approved version of a tire design.  As that design is refined externally or internally, the later significant evolutions will result in a new generation of the tire to be branded with N-1, N-2, N-3, etc., in succession.  When a completely new tire design is approved, it receives the N-0 branding and the succession begins again.
It is recommended that only matching tires be used on Porsche vehicles.  Since many Porsche vehicles are fitted with differently sized tires on their front and rear axles, this means matching the tire make, tire type and        N-specification.  If a vehicle was originally delivered with N-specification tires that have been discontinued and are no longer available, it is recommended to change all four tires to a higher numeric N-specification design appropriate for that vehicle.  Mixed tire types are not permissible.
It is also important to know that while Porsche N-specification tires have been fine tuned to meet the specific performance needs of Porsche vehicles, the tire manufacturers may also build other tires featuring the same name, size and speed rating as the N-specification tires for non-Porsche applications.  These tires may not be branded with the Porsche N-specification because they do not share the same internal construction and/or tread compound ingredients as the N-specification tires.  Using tires that are not N-specific is not recommended and mixing them with other N-specification tires is not permissible.
According to recent Porsche owner's manuals, if you do run Porsche N-spec approved tires on your car, it is always recommended that your tires be replaced in pairs (one axle at a time).  In the event of tire damage such as cuts, punctures, cracks or sidewall bulges that cause a single tire to be replaced, for safety reasons, the remaining matching tire on that axle must not exceed 30 percent wear.  If the remaining tire has more than 30 percent wear from new, it should also be replaced.  Handling inconsistencies may result if this is not done.
You didn't sacrifice when you purchased your Porsche…  Why would you sacrifice now?
CALL 630-406-1700 OR EMAIL mark@barnabaclassics.com 
TO SCHEDULE AN APPOINTMENT NOW!